One moment everything may seem fine, when suddenly you're involved in a serious collision. Most people have one thing on their mind after a car accident ­ their car! However, it's important to remember that you and your injuries come first. A visit to a chiropractor at Vitality Spine & Wellness should always follow an auto injury, as chiropractors are specialists in damage to soft and hard tissue.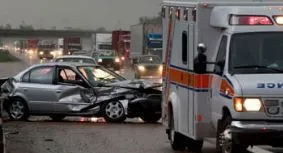 How Can a Chiropractor Help Me After My Auto Accident?
Chiropractors are able to treat neck and back injuries associated with auto accidents. Many times, individuals who have been injured in a car accident experience such intense muscle pain and stiffness that they simply cannot function normally. When left untreated, this discomfort can be a serious issue.
After an auto accident, some individuals experience indicators of whiplash injuries right away, such as blurred vision, headaches, shoulder pain, dizziness, reduced range of motion and arm pain. Whiplash can also result in minor back injuries, muscle injuries, ligament problems, and disc damage. Other individuals may be injured and feel nothing at all.
Treating pain or whiplash should never be secondary to bringing your car at the mechanic or working with your insurance company. If you've had an auto accident recently, your first priority should be taking the initiative to visit your chiropractor!
What To Do When You've been Injured in an Auto Accident
Schedule An Appointment Right Away
If you have been involved in a car accident you should make an appointment for a thorough examination as soon as you can.
Often, individuals involved in motor vehicle accidents have minimal or no symptoms until several weeks after the accident.
It's important to not only receive immediate treatment for any injuries sustained, but also to document the extent of the injuries, before too much time has passed.

Failure to obtain a timely evaluation or appropriate treatment for injuries sustained in a car accident may negate your ability to receive monetary compensation for any future medical bills, pain and suffering settlements, and compensation for work loss.

NOTE: The State of Florida requires that you be examined by a physician within 14 days of the automobile accident to qualify for PIP (personal injury protection) of your automobile policy. Failure to do so will result in loss of your PIP coverage $10,000 to pay for your medical claims.
When you first visit the Vitality Spine & Wellness, we will determine:
The extent of your injuries
The number of estimated treatments required to treat your injuries
If a referral to another medical specialist is required
If special tests are required (i.e. MRI, CT Scan, etc.)
If you need to take "injury time off" from work (and provide you with documentation for your employer)
The reason auto accident victims choose chiropractic care for treatment is simple – chiropractic care is exceptional in the treatment of soft tissue injuries, especially those involving the spine. Since the most common injuries associated with motor vehicle accidents are sprains and strains of the spinal muscles and ligaments, disc and nerve damage, it's only natural that chiropractic care is the treatment of choice.

Don't Delay, Call Vitality Spine & Wellness in Boca Raton Today! 561-419-6915

If you or someone you know has been involved in an auto accident, call our office to schedule an evaluation immediately. The quicker you receive the care you need, the quicker your injuries will heal and the better you'll feel.